Introducing "Holy Bible Dictionary" – Your Ultimate Offline Bible Companion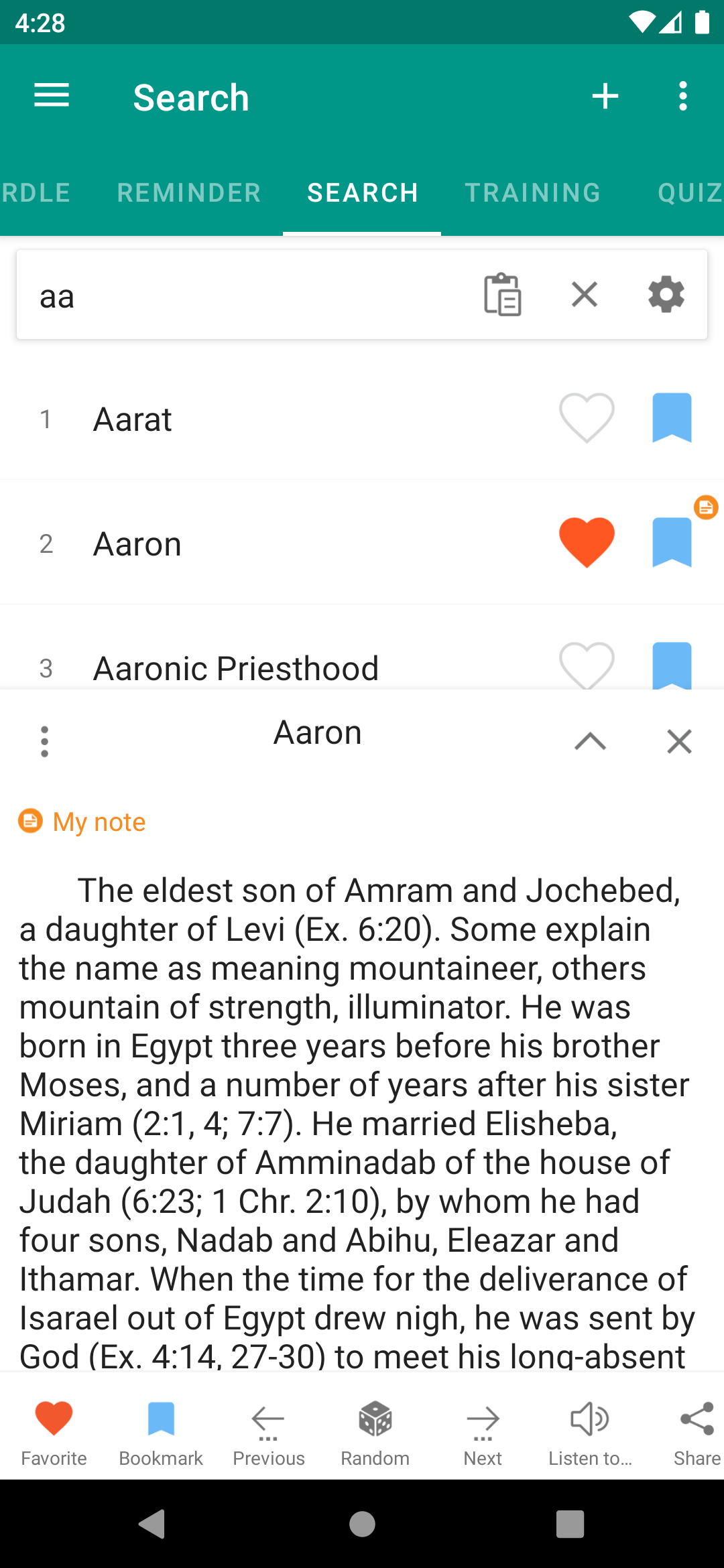 Enhance your spiritual journey with the powerful and comprehensive "Holy Bible Dictionary" app. This free, offline Android application is designed to provide you with an invaluable resource that deepens your understanding of the Bible, wherever you go.
Key Features:
Extensive Offline Bible Dictionary: Access a vast collection of biblical definitions, explanations, and references, all conveniently stored in your device. No internet connection is required, ensuring you can delve into the rich knowledge of the Bible anytime, anywhere.
Favorite and Bookmark: Personalize your Bible study experience by marking your favorite entries and bookmarking important passages for quick access later. Seamlessly navigate through the app and rediscover your most cherished verses effortlessly.
Widget: Stay connected to the Word of God with the "Holy Bible Dictionary" widget. Receive daily inspiration and insight right on your home screen, making it easy to stay grounded in your faith throughout the day.
Reminder: Set customizable reminders to receive daily Bible verses, devotionals, or study prompts. This feature ensures that you stay consistent in your spiritual practice, encouraging regular engagement with the Word of God.
Word of the Day: Expand your biblical knowledge every day with the "Word of the Day" feature. Discover new words, concepts, and teachings from the Bible, broadening your understanding of scripture and deepening your faith.
Why Choose "Holy Bible Dictionary"?
• Comprehensive Offline Resource: Access an extensive collection of biblical definitions and references without an internet connection. Perfect for traveling, remote locations, or areas with limited connectivity.
• User-Friendly Interface: Navigate effortlessly through the app's intuitive and visually appealing interface. Find the information you need quickly and easily, saving time and maximizing your study sessions.
• Free: Enjoy the full functionality of the "Holy Bible Dictionary" app without any cost.
• Reliable and Accurate: Our team of dedicated researchers and biblical scholars ensures that the information provided in the app is reliable, accurate, and aligns with the teachings of the Holy Bible.
Take your Bible study to new heights with the "Holy Bible Dictionary" app. Download it now and embark on a journey of spiritual enlightenment, exploration, and personal growth. Deepen your understanding of the Bible, strengthen your faith, and discover the transformative power of God's Word today.